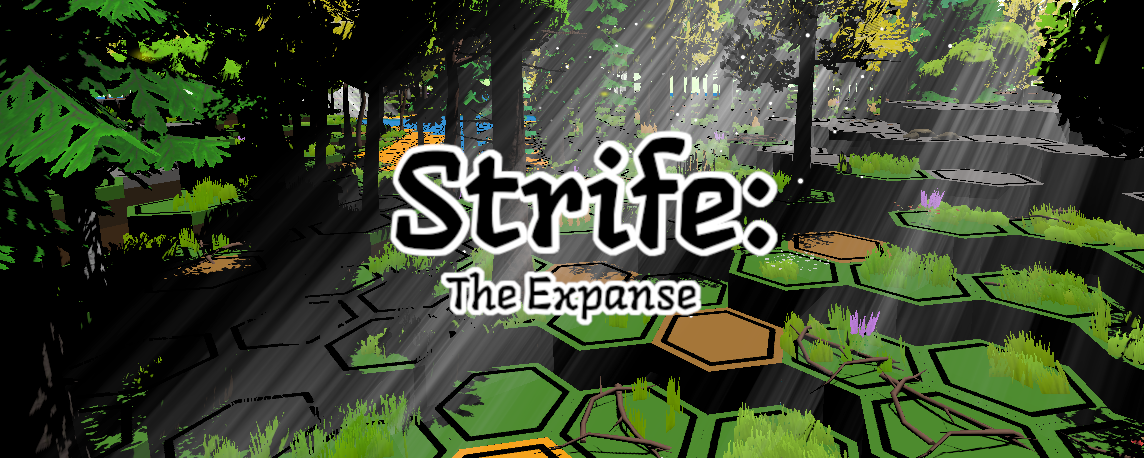 Strife: The Expanse
A downloadable game for Windows
Strife: The Expanse is a Hex-Grid style turn based strategy game. Recruit an assortment of units from across the expanse and do battle with your friends on procedurally generated battlegrounds! Inspired by tabletop board games from the past decade, Strife: The Expanse aims to provide a replayable and customizable experience.
A steam version releases May 14th however the itch version will remain updated as a DRM free version. $2+ Donators will recieve a steam key, and will gain access to the game when the Steam Version Releases. Note: If there is no keys remaining please check back in a day or so.
Features:
Strife: The Expanse currently boasts a wide variety of features aimed to give you control over your game!
Optional Virtual Reality with Oculus Rift: Play with your friends but in VR! Witness the expanse with your own virtual eyes!
Online Multiplayer via Direct Connection & Offline vs AI.
Utilize seven* different Units, each with their own abilities to crush your enemies and lead your team to victory! From defence debuffs to AoE's to passives each unit has its own niche!
3 Gamemodes (Free For All, Team Elimination, or Capture The Flag)
Map Customization Options such as elevation variance, size, and even the ability to select the map seed! Up to 150x150 and 50+ units are supported at this time.
Height matters! Units will take more or less damage depending on their height advantage to other units!

Adjustable point handicaps: Have a friend who is really bad or really good? Adjust their point handicap to make them sweat! Want to set up a 3v1? Give the lone-wolf some extra points so that your battles are fair and balanced for everyone!
Entirely DRM Free on itch.io ($2+ Donators will recieve a Steam Key)
*Five units are available in the free version. There is no other feature restrictions. See below.Multiplayer Hosting Requires Port Forwarding!
Multiplayer Requires Port Forwarding
You can find a few good resources here, here and here. You will need to port forward the 7777 port. Select "Both" for transport method. If you wish to play against bots by yourself this is not required. The steam version bypasses this and allows you to join friends via the overlay.
Controls:
Keyboard and mouse and controller controls are found below. Controller support begins once you are loaded into the main game. You can switch between them on the fly in game so try them out! I recommend playing one game before trying VR to familiarize yourself with the game and to ensure IP and username text-boxes auto-populate.
| | | | |
| --- | --- | --- | --- |
| Action | Keyboard | Xbox Controller (Playstation) | Oculus Rift |
| Select | Mouse Click* | A (X)* | Right/Left Trigger |
| Move | WASD | Left Stick | Left Joystick |
| Speed Up Movement | Shift | Right Trigger (R2) | Click Left Joystick |
| Rotate View | Q & E | Right Stick Left/Right | Right Joystick |
| Quick Select Unit | F | RMB & LMB (R1 & R2) | Left/Right Grip |
| Switch Attack/Move Mode | Space | X (Square) | A |
| Zoom | Scroll Wheel | Right Stick Up/Down | Right Stick Up/Down |
| End Turn | Tab | Y | Y |
| Toggle Chat On | C | Select | n/a |
| Submit Chat | Enter | n/a | n/a |
| Game Menu | Esc | Start | Right Stick Click |
*Mouse and keyboard select where you click, controller selects from center of screen. A target reticle will appear the first time you use a controller.
Free Version Vs Donation Only:
For $2 USD you will gain access to the donation only version. Additionally you will receive a steam key for the game. The free version's multiplayer is compatible with the donation version.
| | | | |
| --- | --- | --- | --- |
| Feature | Free Version | Donation Only | Founder Version |
| Price | Free | $2 USD | $3.50 USD |
| Usable Units | 5 | 7 | 7 |
| Oculus VR | Yes | Yes | Yes |
| Steam Key | No | Yes | Yes |
| Your Name In Game | No | No | Yes |
Financial support will allow me to add additional content such as new units.
Recommended Settings:
CPU: i5-4570 or newer (mostly for 150x150 maps).
GPU: GTX-960 or newer (mostly for VR).
Ram: 8+ Gig
Acknowledgements:
Shoutout to my solid group of friends for beta testing and listening to me drone on about programming.
As always, shoutout to you, whoever is reading this. I do this for fun and anytime one of my games are downloaded it makes my day!
| | |
| --- | --- |
| Status | Released |
| Platforms | Windows |
| Release date | May 01, 2021 |
| Rating | |
| Authors | Falling Ash Games, Ommageden |
| Genre | Strategy |
| Made with | Blender, Oculus Rift, Unity, Audacity |
| Tags | Controller, Hex Based, Multiplayer, Procedural Generation, PvP, Top-Down, Turn-based, Turn-based Strategy, Virtual Reality (VR) |
| Average session | About a half-hour |
| Languages | English |
| Inputs | Keyboard, Mouse, Xbox controller, Gamepad (any), Oculus Rift, Playstation controller, Oculus Quest |
| Multiplayer | Ad-hoc networked multiplayer |
| Links | Steam |
Download
Click download now to get access to the following files:
Donation Only Version
409 MB
if you pay $2 USD or more
Optional Perks
Support this game at or above a special price point to receive something exclusive.
Founder Rewards: Get Your Name In Game!
By spending $3.50 or more and supporting Strife: The Expanse, you can get your name (username, real name, etc) as a possible name for the AI to have! Note vulgar or inappropriate names will not be added and no refund will be given.
The founders packs are limited to 30 in total. Names will be added in the next update to the game.
Comments
Log in with itch.io to leave a comment.
Hi, did you basically make Heroscape in VR? I'm also a developer and interested in the concept...
It was definitely a big source of inspiration, although I really disliked how swingy the RNG was in practice (kinda had to be though since it was table top).
XCOM as well as a few other strat games were also something's I pulled from.
I got a few other units in mind for the game that are all partway through development but it's just finding the time to put out updates.
If you are gonna try the concept yourself I'd suggest building a strong framework for multiple gamemodes. While my workflow for new characters is great, new gamemodes especially with my AI is somewhat cludgy as scope creep happened a bit. If you want to take it to the next level let players design their maps and save them, add props, etc. Was way beyond my level to make that so I went with procedural generation.
Thanks for the lengthy reply!
I'd like to hear more about your process honestly, if you want, message me on discord here - Vad3rInHale#6030
What did you mean here when you said the RNG has to be swingy since it's a table top game?
On a table top game, (ex DnD) you can only roll 1,2,3,4...20. This simplifies the math so that players can keep track of numbers. Furthermore math needs to be simple (addition, subtraction, MAAAYBEEE multiplication) because you don't know the players education.
In a digital format you the developer/game can do all the book keeping. So instead of integer breakpoints for damage (skulls-shields in heroscape) you can instead make a complex damage formula based on stats and have it be as random (or not random) as you want. Square roots, 1/x type functions, exponentials, etc are all on the table.
I settled on removing randomness. You may find your game needs something different. The idea is tabletop games have the inherent flaw that the rules need to be based on simple results from a die. A computer game does not need to follow the same rules.
Examples of where poor tabletop rng can make for unpleasant experiences are low level DnD campaigns (easy to get one shot if an enemy rolls a 20 vs a 19, or in simple rules of heroscape where you roll no shields with the robot guys and your opponent rolls one skull).
Hopefully that helps.